CHAPA1
- The Who's Who of Historic and Prehistoric Artifact Collectors Premier Edition
Museum Quality Lithic Restoration Services By Scot Stoneking.
The growing demand for quality restoration services is fueled by both the rising costs of genuine artifacts and their ever-increasing scarcity. The decline of invasive agricultural methods since the '80s has resulted in fewer artifacts being turned up in plowed fields and Federal laws have all but put an end to in-situ relic collecting.

Quality Hardwood Display Cases cases feature a furniture-quality, hand-rubbed finish, double strength glass, and American-made hardware. Our case lids featured keyed miters for added strength and a touch of flair.

All cases are lockable and include your choice of liner which securely cradles your collectibles against a super soft foam padding.
Peck's Place Publishing - ARCHAEOLOGICAL BOOKS

4222 Winter Jasmine Place Kannapolis, NC 28081-9084
Phone: (704) 933-8986

Mr. Peck has written several books and over two hundred articles on archaeology and the Native Americans. He is on the board of several archaeological societies and is past president of the Piedmont Archaeological Society of North and South Caroline, Inc. and the Central States Archaeological Societies, Inc.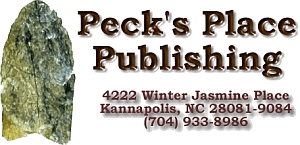 The Chesopiean; a Journal of North American Archaeology

Projectile Points Arrowhead Identification Guide, the largest most comprehensive on-line identification guide.

WinRelic
Find book, relics and other items for sale here.

Indian Arifacts of the Deep South

All Points Covered - Located in SW Michigan, APC is owned and operated by Todd & Jeni Walterspaugh.
Whalens-Artifacts Dedicated to the preservation of Authentic Native American Artifacts, located in Midwest Michigan.
Appalachian Foothills Artifact Collectors Association
Based out of Richmond, Kentucky where the Bluegrass meets the Mountains.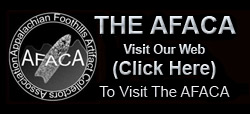 Penbrandt Prehistoric Artifacts & Collectibles Offering Quality Authentic Prehistoric artifacts. We buy, sell, & consign.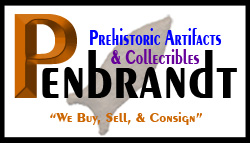 KET Artifacts and Antiques is a family owned and operated online store based in the Midwest United States. We started collecting American Indian artifacts as a hobby in the 1950s walking countless miles in corn and soybean fields.